Become a partner
Your app deserves
a real BOS

Think it Trigrr it
Trigrr™ for App Developers
Stop developing custom technical integrations for your clients – you're wasting your time and money! Your app deserves Trigrr™. Trigrr is a reliable operating system capable of controlling all hardware devices via a single API.
The Trigrr™ Building Operating System brings together all of the parties involved in smart buildings by connecting the world of technical equipment to the world of applications.

Become a Trigrr™partner now – you've everything to gain!
Get free from hardware integration, embrace universal compatibility
Compatible with all equipment, regardless of brand and protocol, Trigrr™ disrupts silo logic and achieves true 360-degree interoperability. Information and controls are unified on a single platform, data is ready to be used by your application.

Trigrr's REST API is fully documented and secure. The intuitive interface enables you to locate all of the connected equipment and their functionalities.
For each function, a specific API call is proposed instantly by Trigrr™. All you need to do is copy/paste it in your code.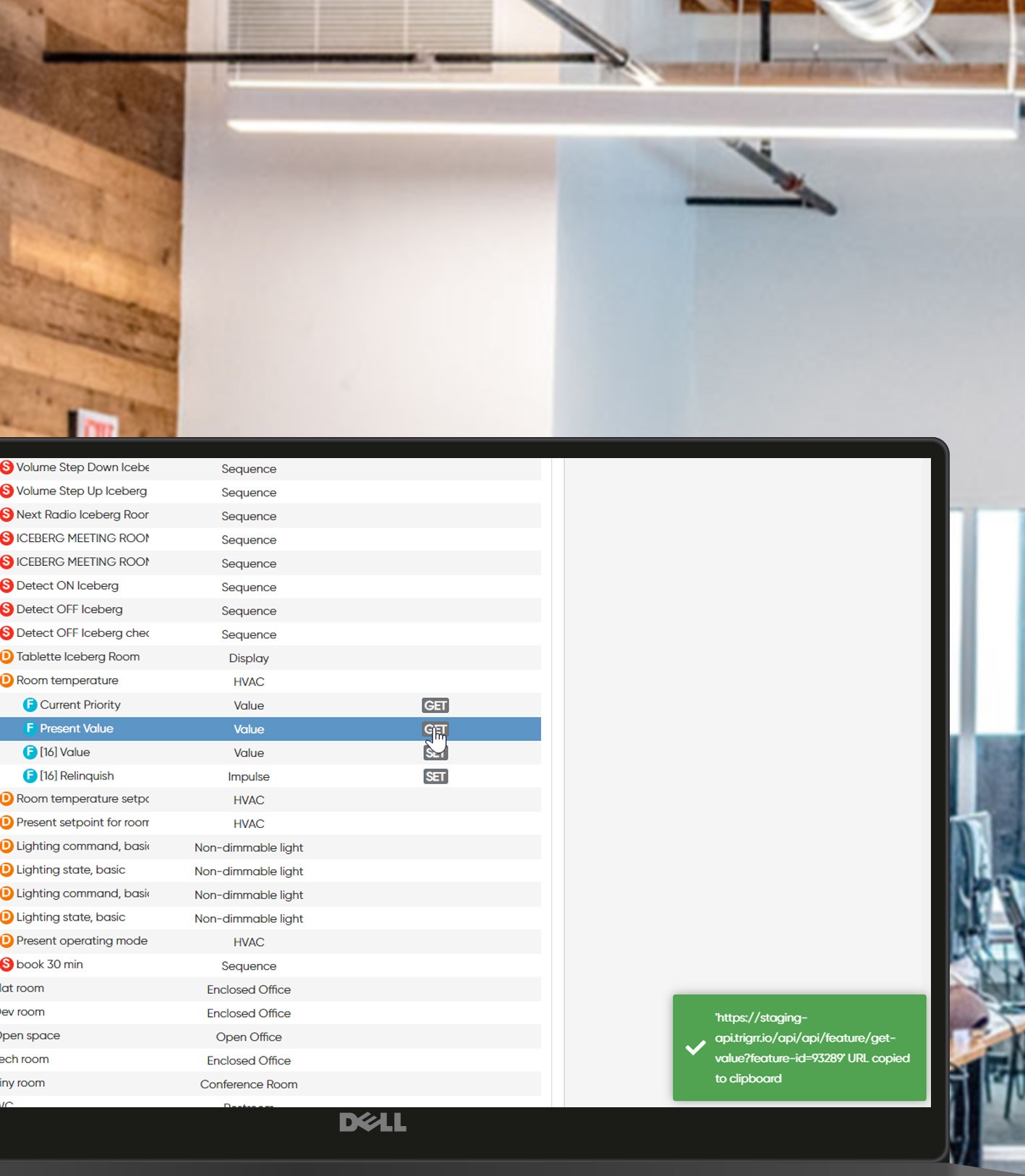 Why become a Trigrr™ Partner?
01

Reduce your costs

No need to invest in expensive integrations to connect with your clients' protocols, BMS and equipment.
With Trigrr™, you're already compatible with all smart buildings.

As the cherry on the cake, when your clients choose Trigrr™, you receive a commission on fixed and recurring costs.

02

Extend your value proposition

Stand out from your competitors! With Trigrr™, you can access all of the building's technical silos. This means your app can offer multi-technology functionality and create new value-added experiences.

Give your customers the future-proof agility they expect with a Buidling Operating System.

03

Improve your visibility

Partner applications are listed on the integrated BOS marketplace. Existing owners can easily find out about your services and activate the connection with your app in just a few clicks.
Smart pricing for a win-win partnership
Even the Basic package allows your application to control all the devices in a smart building via the unique Trigrr™ API.

As a partner, you receive a commission on the annual maintenance fee.
Basic >
Building Controls

Users, roles and logs

Third party API and Marketplace

Global control center

Automation / Scheduler

Dashboard

Advanced library - connector toolbox

Notifications
< Medium >
Building Controls

Users, roles and logs

Third party API and Marketplace

Global control center

Automation / Scheduler

Dashboard

Advanced library - connector toolbox

Notifications
< Advanced
Building Controls

Users, roles and logs

Third party API and Marketplace

Global control center

Automation / Scheduler

Dashboard

Advanced library - connector toolbox

Notifications