A single solution for managing all your real estate

Trigrr™ for Property managers
With Trigrr™, a single interface allows you to control all of the different technologies in one or more buildings.
The Building Operating System enables real-time interaction with each building and generates an automatic notification of technical problems. A building equipped with a Trigrr BOS reduces your costs and increases the satisfaction of your clients.
The BOS disrupts the logic of technical silos and achieves true 360º interoperability to effectively address everyday management challenges.
An intuitive interface to control multiple buildings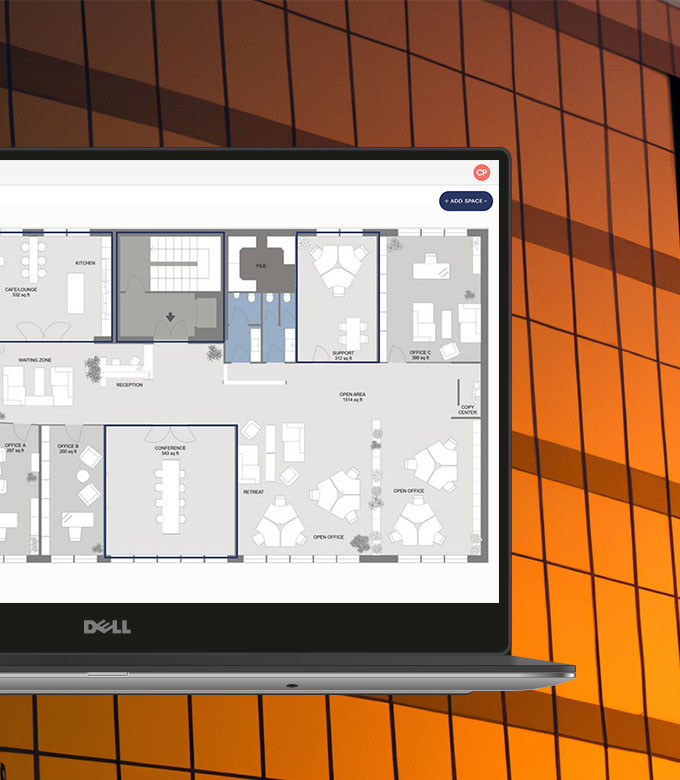 Triggr™ offers property managers a centralised tool that makes it possible to control real estate property securely – regardless of where the buildings happen to be in the world. Through a unique metalanguage, all of the equipment in the smart building can be controlled remotely on the same multi-technology platform: HVAC, lights, audiovisual, access control, etc.

Create a powerful dashboard to monitor all your data and easily export it for reporting.
Build smart scenarios in a few clicks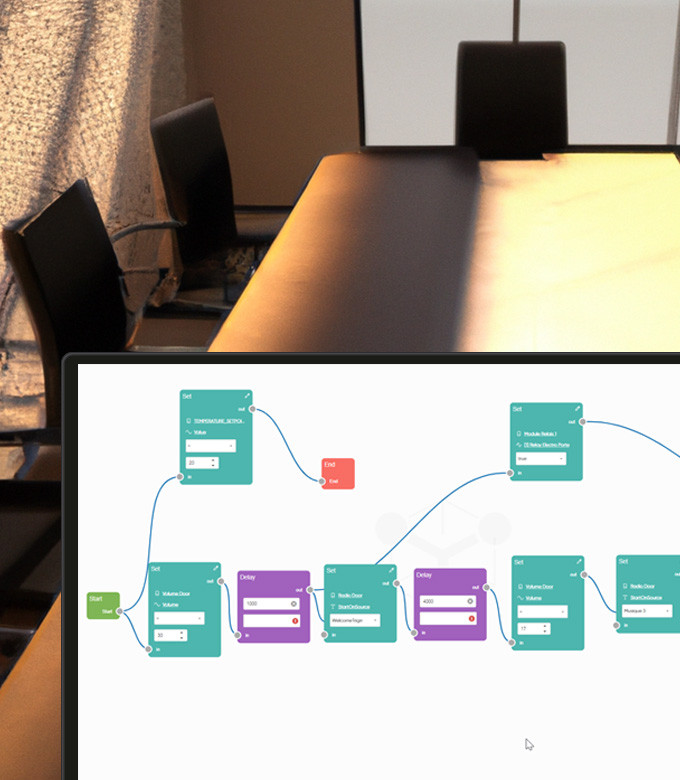 This total interoperability makes it easy to create automated scenarios for every building: opening barriers and gates, turning on reception screens, switching off lights in unoccupied offices – and so on. These automatic processes optimise energy costs and reduce the need for human interventions.
When it is really necessary, you can quickly create temporary access for a field team so that they can enter the site and check the technical elements during their visit. So, no more problems with keys or providing permanent access.
Why should you invest in a Building Operating System?
01

Benefit from proactive interventions

A building equipped with Trigrr™ can automatically send alerts to the property manager when a fault occurs in the equipment. The Building Operating System also gives you access to a full history of the statuses and the interactions for all of the technology installed.
This enables you to resolve the problem remotely or schedule a specific visit to carry out work.

02

Reduce operating costs

A smart building equipped with a BOS makes it possible to optimise the energy consumption of the equipment used, based on the actual needs of the building's occupants. This accurate control of systems and installations helps generate lower energy bills and contributes towards reducing the building's ecological footprint.

03

Make the most of technology freedom

Trigrr™ is a universal BOS that connects to all smart devices, regardless of their make or the technology used. This means that the building's owner has total freedom to choose new equipment without any constraints – everything will integrate perfectly with everything else, thanks to Trigrr.

04

Connect to apps

It doesn't matter what equipment is installed in a building, with Trigrr™ it will connect easily with all third-party apps: parking management, workflow management or energy management.


And the Trigrr™ BOS has a central API that enables any authorised app to connect to control all silos and benefit from all of the dimensions of a flexible smart building.
Tailored charges
For a building of 10,000 m², the cost of Trigrr starts at 0.50€/m² per year.

Trigrr offers flexible packages and additional favourable terms can be granted, depending on the size of the floor areas.
Basic
Building Controls

Users, roles and logs

Third party API and Marketplace

Global control center

Automation / Scheduler

Dashboard

Advanced library - connector toolbox

Notifications
Medium
Building Controls

Users, roles and logs

Third party API and Marketplace

Global control center

Automation / Scheduler

Dashboard

Advanced library - connector toolbox

Notifications
Advanced
Building Controls

Users, roles and logs

Third party API and Marketplace

Global control center

Automation / Scheduler

Dashboard

Advanced library - connector toolbox

Notifications